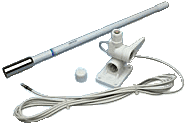 Pacific aerials the designers and manufacturers of world
class communications antennas.
Since 1977, pasific antennas have been sold troughout the world to demanding customers who require the best-trlrcommunications companies and milatary organisations,superyacht owners and quality-focused boat builders. Pacific aerials have built a reputation with Pacific aerials cusomers for innovation, reliability and flexibility.

Every antenna Pacific aerials makes has outstanding electrical performance and mechanical durability built in.Rigorous design and testing, combined with the use of the highest quality compents and advanced manufacturing techniques, mean that pasific aerials antennas perform and survive where others won't.Pacific aerials ISO 9001 accreditation, gained in 1994, ensures that the quality engineered into each disign is maintained in every antenna and accessor that customers out of the factory.

A company philosophy of constant improvement and
listening to our customers has led us to produce some of the best antennas available anywhere. Pacific aerials innovation is most clearly demonstrated in pasific aerials Pro Series marine antenna range, wich was developed in response to customers demand for a fibreglass antenna that could be easily removed and then remounted, without pulling or cutting the coaxial cable.

Pacific aerials experience in te global market has showns that while all customers want a high quality, reliable product, each market has slightly different expectations about what constitutes a standard antenna. We are able to respond to the these different expectations, building antennas which are tailored to suit individual markets with uncopromising quality.








INMARE The Nautical Evolution



Few countries can boast centuries of nautical experience an a maritime culture like Italy. In this field (or more appropiately culture), the INMARE brand is born and has been developing.

It offers a range of innovative products characterized by the use of new materials, high level of technology, creativity and design. The INMARE products, mooring springs, boat fenders and quay fenders, represent a determinated evolutions in the nautical sector.

Our mooring springs compensate for jerks to ropes and bollards. They do not creak and are simple to install.
Our boat fenders do not deflate, nor roll when they come in contact with other boats and can be easily stowed.
In a marina equipped with our quay fenders, manovreus in ports can be carried out in maximum security, with the extraordinary opportunity to transform concrete quays into soft mooring cushions.

"made in Italy", the design and innovative material are the INMARE qualities which guarantee the best choice to protect crafts.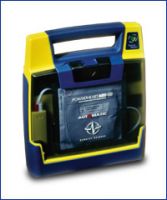 Powerheart AED`s

Powerheart brand AEDs provide reliable, safe, and intelligent cardiac monitoring and defibrillation technology that significantly reduces time to defibrillation and saves lives.
Our objective is to raise the standard of care for cardiac arrest victims both inside and outside the hospital. To that end, Powerheart AEDs contain advanced, lifesaving automatic external cardiac defibrillator technologies that are fast, effective, and extremely easy to use.
Powerheart AEDs feature RHYTHMx™ software technology, our patented software detection algorithm. RHYTHMx quickly and accurately detects abnormal heart rhythms, determines whether they are life-threatening, and only delivers a shock when needed.
Powerheart AEDs also have the patented RescueReady® technology, which includes daily, weekly, and monthly self-tests of battery, internal electronics, software, and tests the pads for presence and functionality. This assures the device will correctly deliver a shock the first time and every time.
Sudden cardiac arrest is the number one cause of death and can strike anyone, anywhere, even at work. So it's extremely important to be prepared to respond quickly to a cardiac arrest. In fact, Powerheart AEDs are quickly becoming standard equipment in America's leading corporations. Powerheart AEDs are also used by hospitals, police and fire departments, public agencies, airlines and airports, arenas, schools, hotels, casinos and many other public access facilities.
Cardiac Science provides industry-leading AED technology with comprehensive AED/CPR training, First Aid/O2 training and program management services that facilitate and document successful AED deployments and ensure federal and state regulatory compliance.
We offer a complete program management solution—scheduling, coordination, and logistics plus American Heart Association Heartsaver certification and training materials, experienced employee educators, medical authorization/prescription and oversight, and optional post-event consultation.